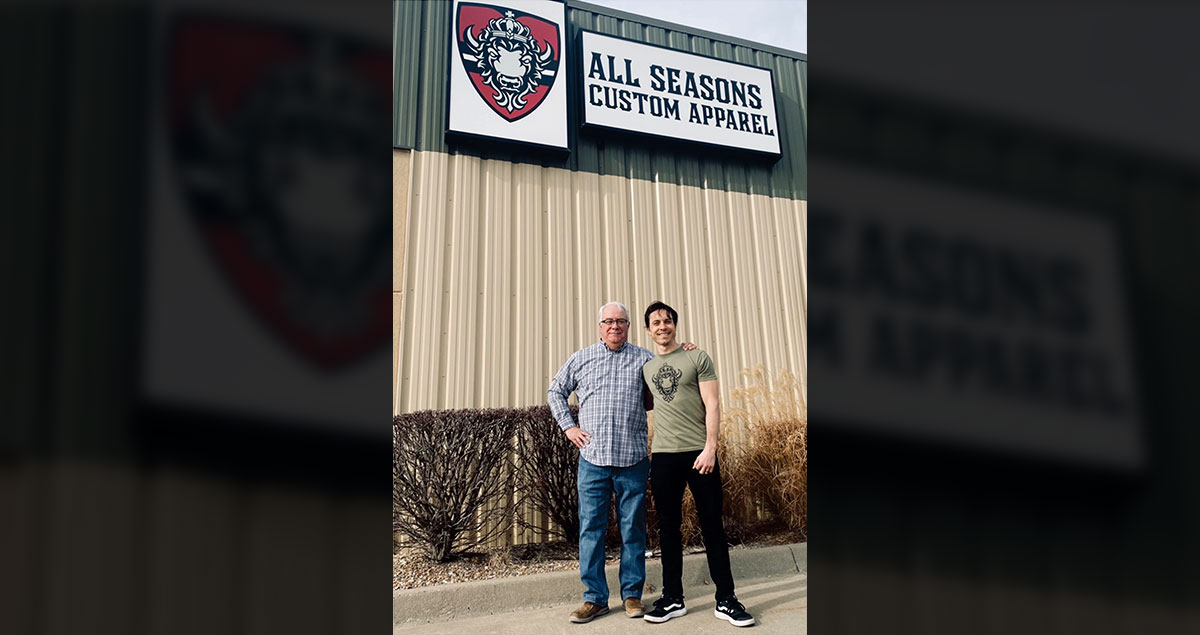 In May of 2022, All Seasons Sportswear, located in Northwest Wichita, rebranded their business to All Seasons Custom Apparel. Along with the name change came a change in leadership as owner, Steve Wilbert retired from presiding over the business. Jace Wilbert, his son, is succeeding as the business' President after 22 years serving as production manager.
When the senior Wilbert took ownership of the business in 1998, their customers consisted primarily of schools and athletic teams and organizations. While this demographic is still a large part of their business, All Seasons rapidly began expanding the types of businesses and organizations they serve to include corporate, industrial, retail, and church apparel as well as promotional apparel for special events and festivals. Their production capabilities have steadily expanded to include a total of 10 embroidery heads and 2 automatic screen printing presses giving All Seasons Custom Apparel the ability to print upwards of 1,000 shirts in-house in a single work day.
The name wasn't the only aspect of the business to change. Their longtime logo, a mascot of a donkey referencing the acronym of All Seasons Sportswear, was replaced with a bison that pays homage to the resilience and steady nature of Kansas' state animal. "When I stepped up to lead the business, I insisted on a slight rebranding simply to let potential customers know that we provide custom decorated apparel to any and every clientele base.", says Jace Wilbert, adding that "we're still the best place to go for school and sports organizations, and letter jackets, but our growing list of customers has expanded to include a wide variety of businesses and groups."
All Seasons Custom Apparel is located at 7420 Northwind, Wichita, KS 67205. It has been family owned and operated since 1998. The company currently employs 10 full time team members. Their mission is to provide Wichita and the surrounding communities with the highest quality custom screen printing, embroidery, letter jackets, and graphic design work available in the industry at the most competitive prices and quickest turnarounds.